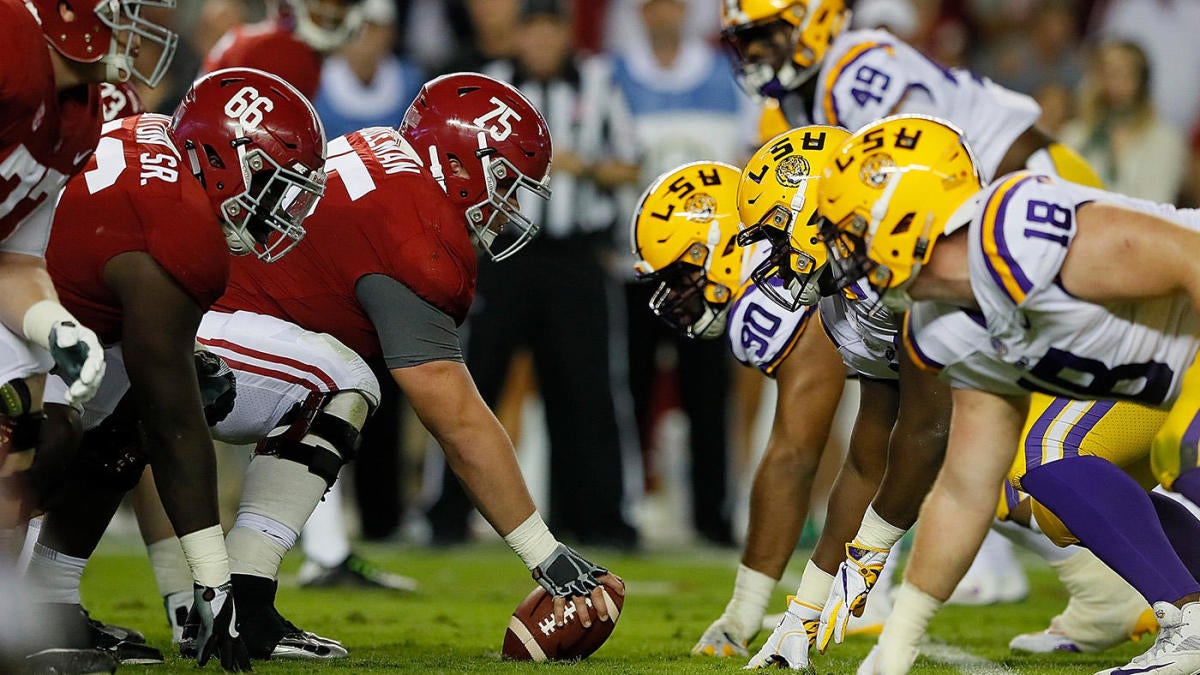 TUSCALOOSA, Ala. — No. 2 LSU leads No. 3 Alabama 33-13 after one half of play. Tigers quarterback Joe Burrow is 18-of-20 passing for 252 yards and three touchdowns — a 33-yarder to Ja'Marr Chase in the first quarter, a 22-yarder to Terrace Marshall in the second frame and a 13-yarder to Clyde Edwards-Helaire with 6 seconds to go in the half. That last drive started after Crimson Tide quarterback Tua Tagovailoa was intercepted by Patrick Queen at the Alabama 42-yard line with 26 seconds left.
Edwards-Helaire punched it in after a bizarre series of events. Burrow hit tight end Thaddeus Moss at the 1-yard line on a diving catch out of bounds. Moss initially stepped out of bounds and it looked like he was the first to touch it, which should have been a penalty. But the Tide defensive back barely tipped it as Moss reestablished himself in bounds, which allowed the play to stand.
Tagovailoa hit DeVonta Smith on a 64-yard touchdown to cut LSU's lead to 16-13. That came after Alabama's defense forced a punt late in the first quarter. Jaylen Waddle fielded it, got spun around by his facemask (no flag) and took off 77 yards for the touchdown to cut LSU's lead to 10-7. Tagovailoa is 11-of-19 passing for 172 yards, but he's had a rough day with a strange fumble inside the 10-yard line on the opening drive. Punter Ty Perine fumbled a snap later in the first quarter, which led to an LSU field goal.
Watch Alabama vs. LSU on CBS, streaming live on CBSSports.com, via the CBS Sports App or through connected TV on CBS All-Access. We will be with you the entire way updating this story with the latest scores, highlights and analysis from the game. If you are unable to view the live updates below, please click here.
Thanks for stopping by.